The Blue Jays Have the Lowest Success Rate in Manager Challenges This Year
As I was watching the bizarre sequence of events during yesterday's ninth inning between the Blue Jays and the Red Sox, I was thinking to myself … John Gibbons and the Blue Jays must not have a very good record in challenges this season.
They don't. In fact, they have the worst record in challenges this season by success rate.
The Blue Jays have challenged 46 calls this season alone, 17 of which have been successfully overturned. That translates to a 39% success rate, otherwise known as the worst in all of baseball.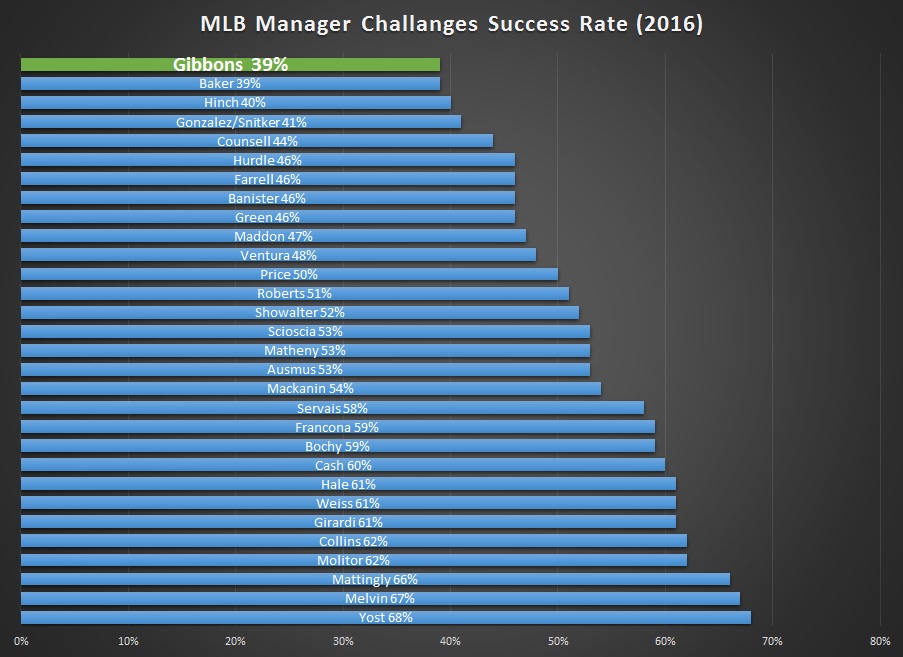 Technically, John Gibbons and the Blue Jays slightly edged out Dusty Baker and the Washington Nationals for the least successful percentage of manager challenges this season. Gibbons is at 39.13% while Baker stands at 39.4%.
This may be fuel for confirmation bias, but at the conclusion of yesterday's Blue Jays game, I just kept wondering why the Jays seem to get hosed on these calls more often than any other team. On multiple occasions, when the evidence is "conclusive", it's murky at best.
Compare the Blue Jays' 39% success rate to the Royals' MLB-best 68% success rate in challenges (Ned Yost is 24 for 35 this season), and you begin to wonder how much of an impact those calls might've had on the Blue Jays' season thus far.
While there's no definitive win or loss probability shift after a manager's challenge, the Blue Jays win probability added on their challenged calls this season ranges all the way from 24% win probability added to 39% win probability subtracted (via Gibby's Baseball-Reference manager's page).
Since the inception of instant replay calls in 2014, John Gibbons and the Blue Jays simply have some of the worst luck. Last year, Gibbons owned a 44% success rate in challenges, and in 2014, the Blue Jays had an MLB-worst 30% success rate.