3 Up 3 Down: AA on Trades, Colby's Bunt and Artificial Turf
There's nothing like facing off against the team with the worst record in baseball to cure what ails a struggling club. Turns out a series against the Texas Rangers is precisely what the Blue Jays needed to get back on track and pick up a series win.
Frankly, a sweep or taking two of three from the Rangers was expected, as Texas is one team that has suffered mightily with season-ending injuries. However, a strong outing by Marcus Stroman and some timely hitting on Sunday helped the Blue Jays get back on track.
AA Holds Court, Remains Vague
On Sunday, Alex Anthopoulos held court with the press and also spoke with Sportsnet's Barry Davis and answered questions mostly pertaining to the upcoming July 31st non-waiver trade deadline.
As per usual, AA remained his elusive self and failed to give any real concrete answers as to what the Blue Jays' plans are in the coming weeks. While it's clear they need to make moves now, I think they're really taking the "wait and see" approach.
With the surging Red Sox and Rays, the dynamic is really shifting within the American League East and in just a few weeks, it really could be anyone's game. So it's my estimation that they're sitting back and letting things unfold leading up to July 31st.
A curious tweet sent out by Bob Elliott hinted that the Blue Jays have told teams aren't able to take on additional payroll, and judging by the Ervin Santana saga from earlier this season, that wouldn't at all surprise me.
Blue Jays telling teams in trade talks that they "can't take on any extrta money."
— bob elliott (@elliottbaseball) July 18, 2014
In the video, Anthopoulos emphasized moves could be after the non-waiver deadline, which indicates the Blue Jays would more likely be looking at taking on players with big-money contracts that will pass through waivers.
Cliff Lee seems like the prime example for this scenario; he's owed $25 million next season and has a $27.5 million club option for 2016. However, for the Blue Jays to take on that kind of cash, they'd likely have to jettison a big-money contract of their own.
I guess what I'm saying is I'm not counting on Alex Anthopoulos getting anything done prior to July 31st, but there is potential for the Blue Jays to swing a deal for somebody that clears waivers.
Colby Lewis Hates Bunts
Did you know that according to the unwritten rules of baseball, you're not allowed to bunt with a two-run lead? And if you see a huge hole on the left side of the infield, that you're not allowed to take advantage of said situation?
At least that's the world according to Texas Rangers starter, Colby Lewis who got in a heated exchange with Colby Rasmus. Here's what Lewis had to say about the situation via Chris Toman's piece on MLB.com.
"I told [Rasmus] I didn't appreciate it. You're up by two runs with two outs and you lay down a bunt. I don't think that's the way the game should be played … we are playing the shift, and he laid down a bunt basically simply for average."
Wait a second, is Lewis complaining about Rasmus laying down a bunt when the Blue Jays only had a two-run lead? The very same team that's struggled to score runs for the better part of a month?
Since when did a two run lead become insurmountable? If the game had been 10-0, then I would have understood, but it's two damn runs. Get a grip, Colby.
Also, Colby Rasmus is hardly the first person who has ever tried to beat the shift by bunting the other way. David Ortiz has attempted this, Jose Bautista has done this, and it hasn't been so they could pad their statistics. It's so they could get on base and ultimately help their team win.
If Lewis was going to be upset, he should be upset at Anthony Gose who laid down a bunt base hit and then attempted another in his following at bat. If anybody's trying to bunt for average, it's Anthony Gose.
Let's Talk About Turf, Man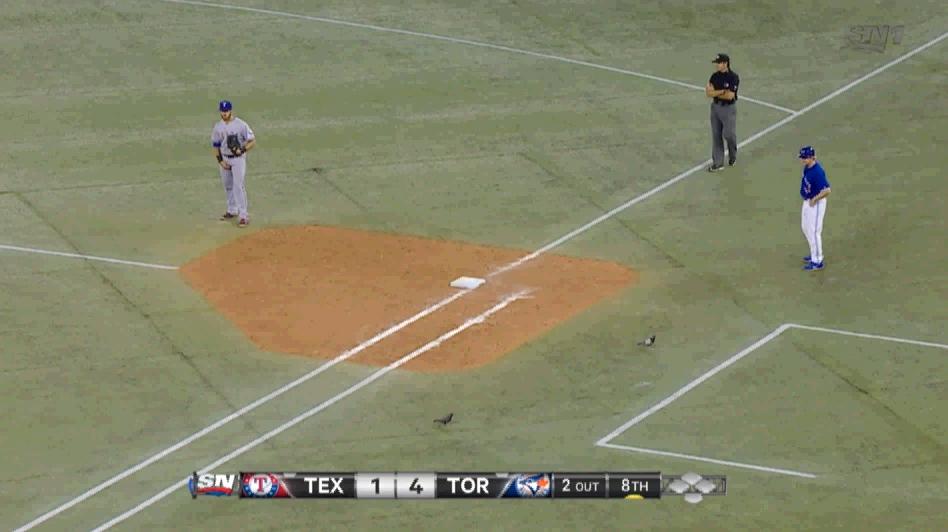 This is likely a topic that deserves its own post entirely, but talk of the quality of the turf at the Rogers Centre has really become a concern in recent weeks.
Jose Bautista voiced his displeasure with the artificial playing surface during the All-Star break, and over the weekend the quality of the turf compared to real grass was very apparent.
In was the turf from Sunday's game, the seams of the Astroturf were very evident by first base. This is hardly a new problem for the Blue Jays, and also one that likely won't have a resolution for many years to come.
But when the field looks that shotty on television, one can only imagine what it must be like for the players who have to play on it.
Images courtesy of Tom Szczerbowski/Getty Images Sport and MLB.com